I am definitely not an athlete.
I loathed the thought of P.E. every single week in school. Luckily for me, I was able to take "individual sports" in high school. Going bowling was far less stressful than watching a dodgeball coming at me slow motion, it's sole purpose being to take my eye out.
The ironic thing is I loved to attend sporting events.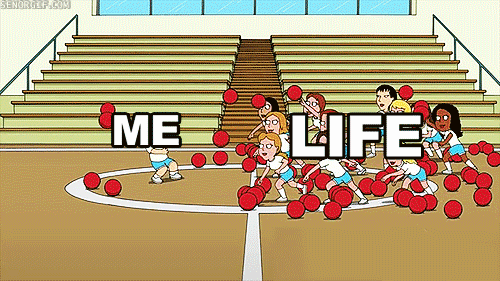 So now I am pretty good at supporting youth sports and appreciate all the fine details they encompass. From the devoted players, to busy parents and coaches, volunteers and staff who run the facilities, and all the siblings that are sometimes dragged along against their will. Little did I know the true logistics of orchestrating my first season of little league football…until I was thrown into it.
My first year as team mom was definitely not planned. Volun-told, I believe, is the term? I was the newbie and naive soul who slowly raised her hand when the coach asked who knew how to set up TeamSnap, while other parents avoided eye contact. And, BAM! My team mommin' career had officially begun. Practice went well and we stayed after to help the coach clean up. We found a lonesome water jug, with no one else around. So, the coach grabbed it to bring it back the next day.
Less than an hour later, I received an email from our league coordinator who forwarded a message from a mom on our new team. Although this mom's email was not in ALL CAPS, I could hear her boisterous voice as I read it. She was upset her child was left behind on the field, alone, with no water jug and someone should have called or texted her.
What did I get myself into? How was a mom already yelling at me? How could I possibly contact her when no one knew each other yet?? Was her child a ninja?!
The Bad
I took a deep breath and did what any other determined mom would do. I spent the next couple of hours looking up tips on how to be an awesome team mom. Silly, right? Since I wasn't even getting paid for it? The season went on and I ended up filling several other positions I hadn't signed up for either. Just to name a few: a counselor, admin assistant, babysitter, chauffeur, videographer, nurse, and bill collector.
Don't get me wrong – I have a servant's heart and will always help in a time of need. With my husband being in the military, I experience single parenting more often than I'd like. So, I will always step in to help as if you were the one that just got impaled in the face by that demonic dodgeball.
But having to fill all those roles on top of my regular full-time job, part-time side business, and trying to mom my own kids sometimes took a toll on me. Late nights of making sure paperwork, schedules, jersey sizes, videos and decals orders were all correct. Continuously sending out reminders and harassing parents to pay their fees. Making sure the post-game snack schedule was full. Coaches not communicating or not being on the same page. Responding to the same text messages, from the same parents, every game asking where the field was because I was too nice to ignore them. The list went on.
The Crazy
Hell hath no fury like intense parents at practices and games. They really can be their own kind of breed. For the most part, parents I've had to deal with were great. But I've also had my fair share of crazy.
I've had to break up a fight between two moms at practice. I've experienced an enraged mom who cyber-attacked all the other parents on our team page for events during a game she hadn't even attended. I've sat at practice in earshot of a dad telling his kid to kick other players in the face. I've watched a mom run onto the field to curse at the coach in front of the other kids. I've had to tell parents to get off the field and stop coaching from the sidelines. I've had parents show up smelling like they'd bathed in tequila. And I've been heartbroken when seeing a parent completely tear into their child for not playing well enough.
What happened to having fun and team building? What happened to the camaraderie that was supposed to help boost spirits and motivate each other? Unfortunately, there have also been team moms who are just not organized, engaged, or mostly absent. Hey, whatever works for you, but at least make sure the team has all the tools they need to keep the show going!
The Good
The great thing is that not all sports and sports parents are created equal. With as much crazy as I've endured, there still came a lot of good. For the most part, our teams became like family. We've laughed together, cheered together, and supported each other during rough seasons. More parents also began to step up and help with different tasks. We've watched our kids grow, work hard, and improve as each season went on. We've even had a fun team bonding night with our first ever Homecoming float! Some of us have grown to love each other and even enjoy a mom's night out every now and then.
In the end, even with all the duties and crazy stories, I just want our teams to be successful off the field as well. And most importantly, I love to see kids having fun – especially my own.
Live a little. Have fun. Get to know the other parents. Let the kids see a positive world around them.